Friday 30 January 2009
Calon lân
Some of the emails that come to me out of the blue are difficult to know how to reply to. Here, unedited and in its entirety, is one that came the other day, with the subject line "Welsh phonetics".
Have you any idea where I can obtain a phonetic version of the welsh song " calon lan " please
I should explain that Calon lân ('A pure heart') is a well-known Welsh hymn, often sung for example at international rugby matches. Unlike, say, Cwm Rhondda, which is often sung in English under similar circumstances ("Guide me, O thou great Jehovah"), Calon lân is always sung in Welsh, even in the non-Welsh-speaking parts of Wales, perhaps because it has no established English translation.
Welsh spelling is extremely regular. If you know the spelling-to-sound correspondences, you can just read a written Welsh text out, sound by sound, with only very occasional uncertainties or exceptions.
My correspondent probably doesn't know this, or doesn't know what the spelling-to-sound correspondences are. Otherwise he wouldn't be asking for a transcription of a particular text.
It's also possible that he's not familiar with phonetic symbols, either. If he were he would probably not ask for a phonetic version but a phonetic transcription. (People sometimes ask for a phonetic translation, which is even more confused.)
It may be, then, that what he wants is a guide to the pronunciation using English spelling conventions. Since Welsh contains both consonants and vowels unknown in English, this is not a satisfactory way of proceeding. I suppose it might begin need oo-in govin buh-wid moythis, but already we are up against the problem of how to represent the Welsh stressed schwa in an open syllable. The second line, perhaps ire uh beed nye behr-lye mahn, brings us up against the problem of how to write aj (ai) unambiguously, and how to show er in a way that won't be read as ɜː.
So here it is in orthography and in IPA.
Nid wy'n gofyn bywyd moethus,
Aur y byd na'i berlau mân;
Gofyn rwyf am galon hapus,
Calon onest, calon lân.

Calon lân yn llawn daioni,
Tecach yw na'r lili dlos;
Dim ond calon lân all ganu,
Canu'r dydd a chanu'r nos.

Pe dymunwn olud bydol
Chwim adenydd iddo sydd;
Golud calon lân, rinweddol,
Yn dwyn bythol elw fydd.

Hwyr a bore fy nymuniad
Esgyn ar adenydd cân
Ar i Dduw, er mwyn fy Ngheidwad
Roddi imi galon lân.
nid ujn govin bəwid mojθis
air ə bid naj berlaj maːn
govin rujv am galon hapis
kalon onest kalon laːn

kalon laːn ən ɬawn dajoni
tekax iw nar lili dlos
dim ond kalon laːn aɬ gani
kanir dið a xanir nos

pe dəminun olid bədol
xwim adenið iðo sið
golid kalon laːn rinweðol
ən dujn bəθol elu við

hujr a bore və nəminjad
esgin ar adenið kaːn
ar i ðiw er mujn vəŋ həjdwad
roði imi galon laːn
There are several excellent versions of this hymn to listen to on the web. Take your pick of Siân James, Cerys Matthews (who gives us a final extra chorus to the tune Hyfrydol), Kathryn Jenkins, the Welsh rugby team, and Bryn Terfel.
There are occasional minor differences in the wording (e.g. Bryn Terfel sings Does ond rather than Dim ond), and various phonetic differences reflecting local pronunciation (e.g. Kathryn Jenkins pronounces rwyf as if spelt royf, cf. llwyd becoming the English name Lloyd).
In the refrain, note the successive mutations of the word for 'sing', which appears as ganu (soft-mutated), canu (basic form) and chanu (so-called aspirate-mutated, i.e. changed to a fricative).
---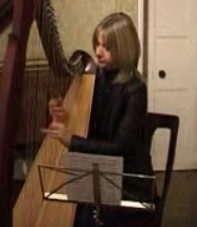 Siân James