Wi a laan fi rait Jamiekan
This is a follow-on to my blog of 7 July, Jumieka langgwij.
An experiment is now in progress in a number of primary schools in Jamaica. The children are first taught in 'patois' (Creole) for a year or two, before being introduced to Standard English. The hope is that teaching them literacy first of all in their (true) mother tongue, and then systematically analysing the differences between Creole and English, will enable the children to end up with a higher level of achievement than hitherto, and in particular to leave school literate rather than semi-literate or illiterate.
First the teachers have to be trained to teach in Creole, which at first they find very strange. (Think of the teacher of arithmetic, priding herself on her good speech, who has to drill herself to say wan tuː tʃriː instead of wʌn tuː θriː.)
The orthography used for the Creole is a slightly revised form of Cassidy's transcription in the Dictionary of Jamaican English. My thanks to Rocky Meade of the UWI for sending me this image of a poster setting out the JC alphabet for use in primary schools.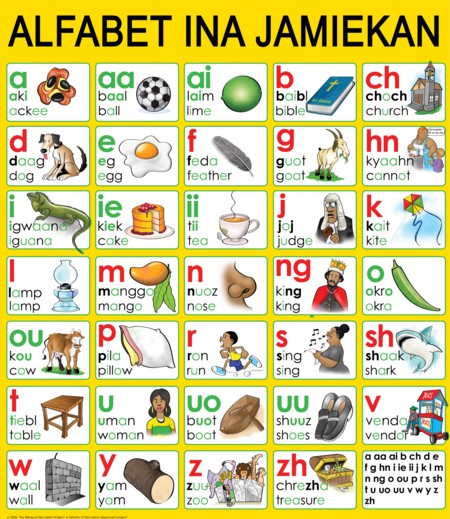 As you can see, some people spell the Jamaican for 'Jamaican' as Jumiekan, others as Jamiekan. Given that the orthography is phonemic, it was a wise decision to allow spelling variation wherever there is variation in usage. This applies in grammar, too, where the anterior ('before-now') tense marker can be written as any of ben, behn, men, mehn, en, ehn, did and the progressive ('ongoing-action') aspect marker as da, a or de.
Forty-odd years ago in the western parish of Westmoreland I recorded a story that included the phrase

a wa ben de krai so laas nait?
is what ANT PROG cry so last night
['what had been crying like that last night?']

In Kingston it would probably have been

a wa en a krai so laas nait?
As well as the Jumieka Langwij site that I linked to on 7 July, there is more formal and technical coverage on the website of the university's Jamaican Language Unit.
As we know, native speakers of Standard English often find it quite difficult to transcribe their own speech phonetically. We have to drill them repeatedly to get them to analyse sounds accurately and to avoid the dazzling effect of standard spelling. I think the same problem may affect those who want to write creole, too. Unless they're properly trained, they make mistakes. Even for native Creole speakers, using the newly sanctioned orthography may be problematic. To show you what I mean, here is a sample passage from the Bible in Creole that I found here (scroll right down to the entry for 11 March 2007).
First, here is Young's Literal Translation of 2 John 5 (which is closer to the Greek than the AV):
and now I beseech thee, Kyria, not as writing to thee a new command, but which we had from the beginning, that we may love one another
And now the Creole version from the website:
Nou, mi a aks yu, mi liedi, fi mek wi lov wan anada. A no even fi seh dat mi a rait yu bout somting nue, kaaz a laang taim nou wi get dis ya komaanment ya.
It seems to me that just this single verse contains a number of straightforward orthographic errors. I think that even (even), for example, ought to be iivn, seh ought to be se, and nue ought to be nyuu. (Or just possibly even may represent some other word that I have not identified — heaven? surely not.)
And in Westmoreland, at least, di piipl dem naa se aks (ask), dem a se aaks.
---