Wednesday 13 February 2008
Phonetic incunabula
My picture today shows an excerpt from Daniel Jones's first published work, 100 Poésies Enfantines (Leipzig: Teubner, 1907). Like the Brel clip (5 Feb.) it demonstrates an admirable multilingualism: a book in French by an English author from a German publisher.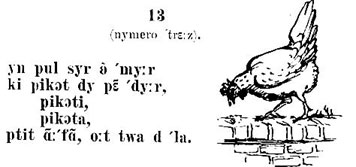 As its title indicates, the book consists of nothing but a hundred French nursery rhymes, all in phonetic transcription. (I really wonder how Jones persuaded Teubner to take it on. Sales can hardly have been extensive, even twenty years later when Jones had become better known. Teubner made a wise investment, though, because in due course it was they who published Jones's Outline of English Phonetics, 1st edn. 1918 through to 8th edn. 1956.)
The orthographic text, given in smaller type at the back of the book, reads
Une poule sur un mur,
Qui picote du pain dur,
Picoti,
Picota,
Petit enfant, ôte-toi de là.
In the transcription the first thing that strikes us is the use of an acute accent as the stress mark. This symbol was changed by the IPA in 1927. See the scan below from m.f. (Le Maître Phonétique) 18: 14, Apr-Jun 1927, a report of desizjɔ̃ dy kɔ̃sɛːj [Council decisions]. Like everything else in the journal, this was in phonetic transcription. At the time the official language of the IPA was French.

[(2) They decide that the stress mark shall henceforth be represented by a vertical line ˈ in preference to the oblique line used until now; and that ˌ shall be used to represent secondary stress. (In favour 11, against 2, did not vote 3.)]
The second striking thing is the symbol for the open-mid front rounded vowel, ʚ instead of œ. (In the nursery rhyme text it is nasalized, ʚ̃.) Similarly, the book has ɵ for the French vowel usually written ø. These were not official IPA symbols at the time. I have not checked back thoroughly in old issues of the m.f., but I have found that ʚ is included in the 1926 version of the IPA Chart, for a half-open rounded central vowel. By 1928 it disappears from the Chart, not to reappear until the 1989 revision. In the m.f. the French vowels are everywhere written œ and œ̃, never ʚ and ʚ̃. Perhaps the use of ʚ and ɵ for French was an experimental innovation by Jones, later dropped.
There's more about the nursery rhyme book in Collins and Mees' biography of DJ, The Real Professor Higgins (Mouton de Gruyter, 1999), p. 33-34 — which by the way I note that amazon.com are offering at a real bargain price.
PS Both Christopher Bergmann and Nigel Greenwood write to point out that there is a mistake in transcription in the last line of the report of the Council's decision. It should read vɔtɑ̃ (votants), not vɔ̃tɑ̃.
---

Daniel Jones, 'The Real Professor Higgins'