Thursday 4 September 2008
Uber
Nowadays it is not unusual to see the German prefix über in English. This is no doubt based on Neitzsche's Übermensch (superman), which the OED dates in English to 1902. The OED also records Überfremdung and überhaupt, and non-prefixal use of the preposition in über alles. But nothing more.
This is from The Independent on Sunday, 31 August: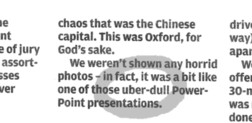 So uber is starting to be used productively, like its Latin and Greek cognates super- and hyper-.
Some more examples, off the web, each linked to its source: uber-wiki, uber-secret, uber-moderniser, uber-fans, uber-laptop.
The Macmillan Dictionary website cites über-successful, über-modern, über-trendy, über-rich, über-popular, uber-freelance, ubernanny, uber-defensive, uber-hip. According to this site
The prefix often has slightly negative overtones, i.e.: the idea of 'excessively'.
Wikipedia points out, quite rightly, if in slightly odd English:
An expression like "über cool" sounds rather awkward in the ears of a German. They would rather use "obercool", where "ober" means "upper", "higher" or "superior". For example the German word for "first lieutenant" is "Oberleutnant" (as opposed to just "Leutnant" for "second lieutenant").
How do we pronounce it in English? In German it's yːbɐ, but we don't have yː in English. So we're generally content with uːbə or possibly juːbə. And we spell it without an umlaut, too.
Actually, though, I think that I myself usually pronounce it with yː. This is either because I know German, or because I'm showing off, or both.
Although the first syllable of English uber bears a (lexical) secondary stress, the (lexical) primary word stress remains on the second element, thus ˌuːbəˈdʌl etc. That is, uber words are double stressed. In connected speech, of course, you can get accent shift or contrastive accentuation.
His 'speech was 'uber-'dull.
He gave an 'uber-dull 'speech.
It 'wasn't just 'dull, | it was 'uber-dull.
---