Wednesday 17 December 2008
Krismos tuori
Here is something nice for Christmas: the Christmas story told in Jamaican Creole, now available on YouTube. (Thanks to Hubert Devonish, professor of linguistics at UWI Mona, for tipping me off.)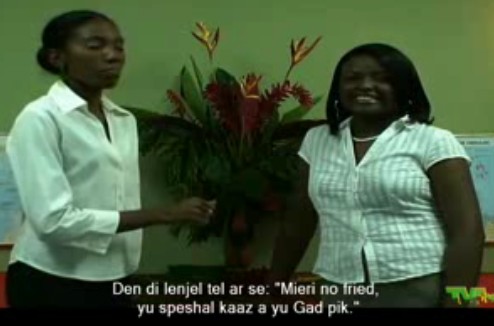 Not only can we listen to the story (or tuori), we can also read the subtitles. They are in the special phonetic spelling devised for JC by Fred Cassidy (slightly modified: see blog for 13 August 2008). Those campaigning to have JC given proper recognition in the Jamaican school system and elsewhere have adopted this spelling and want it made official, partly no doubt to bring out the difference from Standard English and to underline the claim that JC ought to be regarded as a separate language, not as a crippled form of English.
The caption in the picture above reads Den di Ienjel tel ar se: "Mieri no fried, yu speshal kaaz a yu Gad pik.", which means Then the angel told her, "Mary, do not be afraid, you are special because it was you that God picked".
At first it is confusing to have the spelling ie denote the FACE vowel (rather than the PRICE or FLEECE it would stand for in standard spelling). But this exactly reflects the Creole pronunciation, with a close-to-mid front opening diphthong. So ienjel = angel, Mieri = Mary, fried = (a)fraid.
Interesting grammatical points just from these two lines include the use of se (from say) as a complementizer or to introduce a direct quotation, fried (from afraid) as a verb, 'to fear', rather than an adjective, and the use of a as a topicalizer (a yu Gad pik = it was you God picked). The ignorant view is that JC (or "patwa") has no grammar. The linguists have shown that it does of course have grammar, but a different grammar from that of English.
---