J. C. Wells: Accents of English
links to recordings of English accents and dialects
When my three-volume Accents of English (Cambridge University Press, 1982) was published it was accompanied by a cassette with recorded specimens. The same tape was also published by BBC English under the title In a Manner of Speaking. Both cassettes have been unavailable for many years.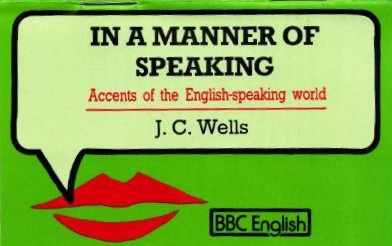 Now, with the agreement of the publishers, the recordings have been converted to digital form, and can be accessed from this site.

Currently, the links do not work properly with all browsers. If this applies to yours, try using Internet Explorer.
1. The first specimen is of Received Pronunciation (RP). It comprises the test passage*, spoken by Susan Ramsaran.

2. The second "reference accent" is General American.

"General American" is the label which may be applied to the speech of the majority of Americans whose speech has neither Eastern nor Southern characteristics. The speaker on the tape is from Seattle, Washington state, in the Pacific Northwest.

LOT has an unrounded vowel, [ɑ].
Rhotic distribution of /r/: /r/ is pronounced wherever the spelling includes r. No intrusive /r/. No centring diphthongs as distinct phonemes: experience has the same [-pɪr-] as spirit.
Suffix vowel strong in -ary /-ɛri/, weak in -ile /-l/.
BATH has the same /æ/ as TRAP.
GOAT ranges from a monophthongal [o] through [oʊ] to an almost RP-like [əʊ].
Often no /j/ after /t, d, n/: during. No /j/ after /s/: super-.
Tapping and voicing of /t/ between vowels: unforgettable (rhymes with incredible), quarter, later, sitting, waiting, started.


Here is the test passage.

3. Next comes the North of England.
There is great variability among accents in different parts of the North of England, but the broad accents (those furthest from RP) share two important characteristics:

no distinction between the vowels STRUT and FOOT (an [ʊ]-like vowel in both); and
the absence of "BATH Broadening", i.e. BATH words have the same vowel as TRAP (in the north often [a] rather than [æ]).

The first speaker has [ʊ] in the words just, Scunthorpe, fun, club, London, much; and [a], rather than RP [ɑː], in dancing and basketball.
Like broad-accent speakers in most parts of England, he has "variable /h/" (sometimes [h] is present, sometimes absent). Note hesitation at hobbies; H Dropping in I've 'ad, get the 'ang of. This is typical of working-class speech in England.
So also is the pronunciation of the -ing ending as [ɪn] (or [ən, n̩]) rather than as [ɪŋ]; note train-spottin', somethin'.
The next speakers are children from Leeds, telling jokes. Note

[ʔ] (glottal stop) as the pronunciation of the definite article: in t' park = in the park. Also [ʔ] for /t/ elsewhere (go' any = got any).
A diphthong [ɪu] in rhubarb.

The adult interviewer uses the typical northern pronunciations of laugh [laf] and funny [ˈfʊnɪ].
The last speaker is a Birmingham child. Unlike the Leeds children, he has a marked diphthong in FACE (as in train [trʌɪn] — but he also has a short vowel in past.

4. The South of England.
Again, there are several excerpts under this heading in the recording.

First is a typical accent of the West country — a man from Andover, Hampshire, talking about the name and history of the town.
Note that this is a rhotic accent, with /r/ in words, water, important. The speaker uses a hypercorrect [h] in (h)ancient.
BATH has the broad vowel: past [pɑːst].
MOUTH has a diphthong [ɛʊ]: crown, township.
The second speaker is from near Oxford. He has a long front vowel [aː] not only in BATH (master, staff), but also in START words (farmer): although this used to be a rhotic area, it is so no more.
Note also [ɪn] in swimmin', and [ʌɪ] in PRICE words (quite, wine, fight) (Diphthong Shift, eɪ → ʌɪ).
The last speaker is a boy from rural Norfolk in East Anglia. Note particularly the [aː] of BATH (laugh) and the characteristic rhythm (as in the word anybody).
*Test passage. One day last year, when I was driving back to work after I'd had lunch, I had an amazing and unforgettable experience. It must have been two o'clock — or perhaps a quarter of an hour later, a quarter past two. It was an incredible thing, really: I was sitting there at the steering wheel of my new car, waiting for the lights to change, when all of a sudden the car started to shake this way and that, rocking from side to side, throwing me backwards and forwards, up and down. I felt as if I was riding a bucking horse. Worse than that, some mysterious spirit or hostile force seemed to be venting its vast fury upon the earth. And the noise! — there was a kind of deep groaning and horrible awesome grinding which seemed to fill the air. And then, a short while after, the whole paroxysm had stopped, just as suddenly. Everything was calm and smooth again, quiet and peaceful once more. I put my foot down, just a gentle pressure on the accelerator (or the gas pedal, as it's known in America), and drove off. Everything was utterly normal once more.
So then — was this some very local and momentary earth tremor which had struck us? Or, I ask myself, was it a supernatural visitation, some fiery storm of diabolical wrath? Or was it, rather, merely that I'd drunk a double vodka or two during my lunch?
---
Page maintained by John Wells
Last revised 2013 09 28