Some other pages on our site you may enjoy ...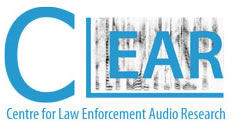 The CLEAR project aims to create a centre of excellence in tools and techniques for the cleaning of poor-quality audio recordings of speech.

ESection is a free program for calculating and displaying spectral and other related analyses of sections of a speech signal. It can be used to demonstrate the different spectral properties of elements of speech. It can also calculate an LPC spectrum, autocorrelation and cepstrum analyses, and can display the signal as a waveform or as a spectrogram. It automatically finds formant and fundamental frequency values.

Resources for word processing of phonetic transcription.