Where to come on the first day
SCEP takes place in the Cruciform Building, 90 Gower Street WC1E 6BT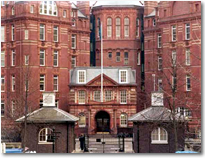 The Cruciform Building is in red brick, and has fancy towers. But at present it is covered in builder's scaffolding, and you might not recognise it from the photo. It is directly opposite the main entrance to UCL. Registration is from 8:30-9:15 on Monday 10 August. Do NOT come to the Phonetics department, which is 1 km away and will not be used for SCEP.
Study Phonetics in London!

Come and spend two weeks in London this summer, studying English Phonetics at University College London (UCL).


There are two strands to our Summer Course:
EFL
If you're a teacher or student of EFL, you could brush up your knowledge of the theoretical side of phonetics and bring yourself up-to-date on new developments; or you may want the opportunity to do some ear-training and listening practice under the guidance of specialist tutors; or you may just want to improve your own English pronunciation. You can do it on the UCL Summer Course in English Phonetics.


IPA
If you have good prior knowledge of English phonetics — whether you're an EFL teacher/student or a native speaker of English — you maybe able to enrol in the IPA Certificate strand to prepare you for taking the International Phonetic Association's Examination for the Certificate of Proficiency in the Phonetics of English. The IPA examination will be held on Monday 25 August 2009 at UCL. There is an entrance test for admission to this strand (see below).
At UCL we are enthusiastic about the study of pronunciation and how to teach it. We are the world's leading university department for English Phonetics—our tradition was established by Daniel Jones, and continued by A.C.Gimson, and J.C.Wells, all scholars with a world-wide reputation. We are also a leading centre for teaching and learning innovations in phonetics, and host the biennial international Phonetics Teaching and Learning Conference. PTLC2009 will take place 6-8 August, immediately before SCEP.

The Course covers all the main aspects of English phonetics:
phonemic system (vowels and consonants)
segmental analysis (allophonic processes)
word stress
weakening and coarticulation processes
sentence stress (accent, tonal stress)
intonation and meaning
These topics will be investigated both in lectures and in practical classes. We deal with both speaking and listening. You will get plenty of practice in pronunciation performance (sounds in isolation and, more importantly, in connected speech) and in auditory discrimination (ear-training).
Practical groups will be kept small (not more than about ten people), and will be streamed according to students' level of ability. We expect to have separate groups at least for

EFL strand, university academics and postgraduates
EFL strand, teachers of English as a foreign language
EFL strand, undergraduate students of English
IPA examination strand.
In the EFL strand (the main strand followed by most participants) we pay particular attention to the difficulties of English pronunciation for learners of EFL. We focus especially on the phonetic characteristics of connected speech, analysing the ways in which the pronunciation of words in discourse typically differs from their pronunciation in isolation. We look at stress and intonation particularly from the point of view of pragmatics and discourse function. The theory, ear-training and practice materials relate to English phonetics rather than to general phonetics.

In the IPA strand, we prepare participants for the IPA Certificate of Proficiency in English Phonetics, which includes general phonetic ear-training and theory alongside English-related material. This strand presupposes a sound knowledge of phonetic theory (as set out in books such as Speech Sounds — see recommended reading page ), including the detailed description of articulatory movements in short stretches of connected speech. The course ends with a chance to take the exam. It is essentially a two-week intensive revision course with a strong emphasis on the practical skills required (ear-training, production practice and transcription); basic knowledge will be assumed, and teaching will focus on consolidating key points and issues.