Requiem for Villa Virginia, Spanish Point, Montserrat
Montserrat is a small West Indian island, basically peaceful and unspoilt. It is a British colony, one of the Leeward Islands, with a usual population of about 12,000. It lies 40km (25 miles) southwest of Antigua, north of Guadeloupe and south of Nevis and St Kitts. It is volcanic and mountainous, but green and with fertile valleys. The mountain slopes are interrupted by steep ghauts (ravines). The weather is warm and balmy (26-27C / 78-80F). At Spanish Point, on the eastern side of the island, there are almost always cooling breezes from the sea and hence no biting insects.
There is now a serious danger from Montserrat's formerly long-dormant volcano. Our house was destroyed by the volcanic eruption of 21 September 1997. The areas surrounding and including both Spanish Point and the capital, Plymouth, have been badly damaged by volcanic action, and access is not permitted. The villages of Harris's, Streatham, Dyer's, Windy Hill, Bramble Village, Bethel, Farm's and Trant's all suffered serious damage on 25 June 1997 and Tuitt's and Spanish Point on 21 September. We cannot at present visit Spanish Point, still less invite visitors there. The northern third of the island is officially regarded as safe from volcanic risk, though it is affected by ashfalls.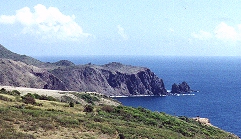 Our house, Villa Virginia, stood about 75m (230 ft) above sea level. From the veranda there was an unobstructed view across pasturage down to the sea 1km (half a mile) away: in clear weather you could see Antigua on the distant horizon. There was a large garden with a coconut palm, mango, almond and avocado trees, a bougainvillea and a hibiscus hedge. The accommodation included a sizeable living/dining room, a kitchen, three bedrooms (sleeps five/six), a bathroom with bath and shower, and a laundry room. The house was equipped with telephone, cable TV, fridge-freezer, cooker, and washing machine. You can view some photos.

The island has very little in the way of tourist-oriented entertainments, and even less for children; but visitors are warmly welcomed. The only town, Plymouth, lies on the opposite side of the island from Spanish Point, and was formerly reached by a steep and winding road now blocked by pyroclastic flows. In Plymouth there were banks, a post office, and a range of shops, including a large supermarket (now all relocated to the north, or closed).

The coastline at Spanish Point is rugged. The nearest beach where bathing was possible is the stony Trants Bay. On the western side of the island, however, half an hourís drive away, there are delightful sandy beaches at Old Road Bay and Woodlands Bay. (But if lying on beaches or snorkelling is your main interest, stay in Antigua.) Other Montserrat attractions include hikes and mountain bike riding. (The Great Alps Waterfall, formerly a major tourist attraction, is now lost under volcanic ash and lava.) There is (used to be) golf at Belham River and a bird sanctuary at Foxes Bay.

Getting there. The usual route is via Antigua, which is served by British Airways and BWIA direct from London, and by other airlines from Newark, Miami, Toronto, Frankfurt and Paris. It is also possible to travel via San Juan (American) or Sint Maarten (KLM). Ordinary Apex returns from London range from £500 to £800 depending on season, but very much cheaper offers are often available, including charter flights; there is currently also a weekly London-St Kitts charter. From Antigua, LIAT's 15-minute flights to Montserrat have now been suspended, because of the closure of Montserrat's airport. A daily ferry service operates instead between Heritage Key (St John's, Antigua) and Little Bay (Montserrat). There is also a helicopter service.

We regret that Villa Virginia will not in the foreseeable future be available for vacation rentals / holiday lets.
John Wells and Gabriel Parsons. E-mail: j.wells@phon.ucl.ac.uk, gab@globalnet.co.uk

Some relevant links:
Last modified 2000 May 03