Professor J.C. WELLS: brief curriculum vitae
---
Born 11 March 1939 in Bootle, Lancs., England, John Wells is Emeritus Professor of Phonetics in the University of London and former Head of the Department of Phonetics and Linguistics at UCL. He is a Fellow of the British Academy. His interests centre on the phonetic and phonological description of languages but also extend to lexicography and language teaching. Until retirement he was the director of UCL's annual Summer Course in English Phonetics. He is a frequent contributor to BBC radio (R2, R4, R5, BBC English), and writes a daily phonetic blog. He has also published in and on Welsh and Esperanto (he is a former President of the World Esperanto Association and current President of the Esperanto Association of GB). Formerly Secretary of the International Phonetic Association and Editor of its Journal, in 2003 he was elected as its President. He is also the current president of the Simplified Spelling Society. Based in Britain at UCL throughout his career, he has over the years given invited lectures in many countries* around the world.

Degrees:
1960 BA Classical Tripos, University of Cambridge
1962 MA General Linguistics and Phonetics, Univ. of London
1971 PhD General Linguistics, University of London
Honours: 1996 elected Fellow of the British Academy (FBA)
Employment: now retired. Formerly a member of the academic teaching staff, Department of Phonetics and Linguistics, University College London (from 1962):
Professor of Phonetics (personal chair from 1988; established chair from 1989); Head of Department (1990-2000). Retired 2006.
Other appointments:
President, British Association of Academic Phoneticians, 1994-2005
President, International Phonetic Association, 2003-2007
President, World Esperanto Association, 1989-1995
President, Esperanto Association of Britain, 2004-
President, Simplified Spelling Society, 2003-
See a list of selected publications.
Languages:
English (native)
Esperanto (excellent)
French (good reading, fair spoken)
German (good reading, excellent spoken)
Welsh (good reading, good spoken)
Spanish (fair reading, elementary spoken)
Italian (fair reading, elementary spoken)
Modern Greek (fair reading, elementary spoken)
Latin (to degree level)
Classical Greek (to degree level)
plus smatterings of Polish, Russian, Swedish, Danish, Norwegian, Japanese...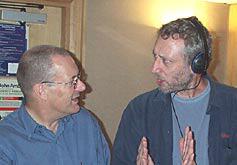 John Wells (left) in the studio with Michael Rosen, presenter of the BBC R4 programme Word of Mouth
* To date: Japan, Korea, mainland China, Hong Kong, Taiwan, Australia, Cameroon, the United States, Canada, Cuba, Montserrat, Trinidad, Argentina, Chile, Venezuela, Spain, Italy, France, Germany, Belgium, the Netherlands, Sweden, Denmark, Norway, Iceland, Finland, Lithuania, Latvia, Poland, the former Czechoslovakia, Hungary, Austria, Slovenia, Serbia, Greece, Bulgaria, Russia, Ukraine, and India.
---
J.C.Wells home page.

UCL Phonetics and Linguistics home page.

University College London home page.

Last modified 2012 January 18