PHONLINE Report
Distance teaching and learning
While there have been many previous demonstrations of individual online learning tools for phonetics, PHONLINE aimed to reproduce all the essential elements of an extended on-campus course, with tutorial material, exercises, practical training and assessment embedded in a virtual learning environment (VLE).
Screenshot of PHONLINE front page (click to enlarge)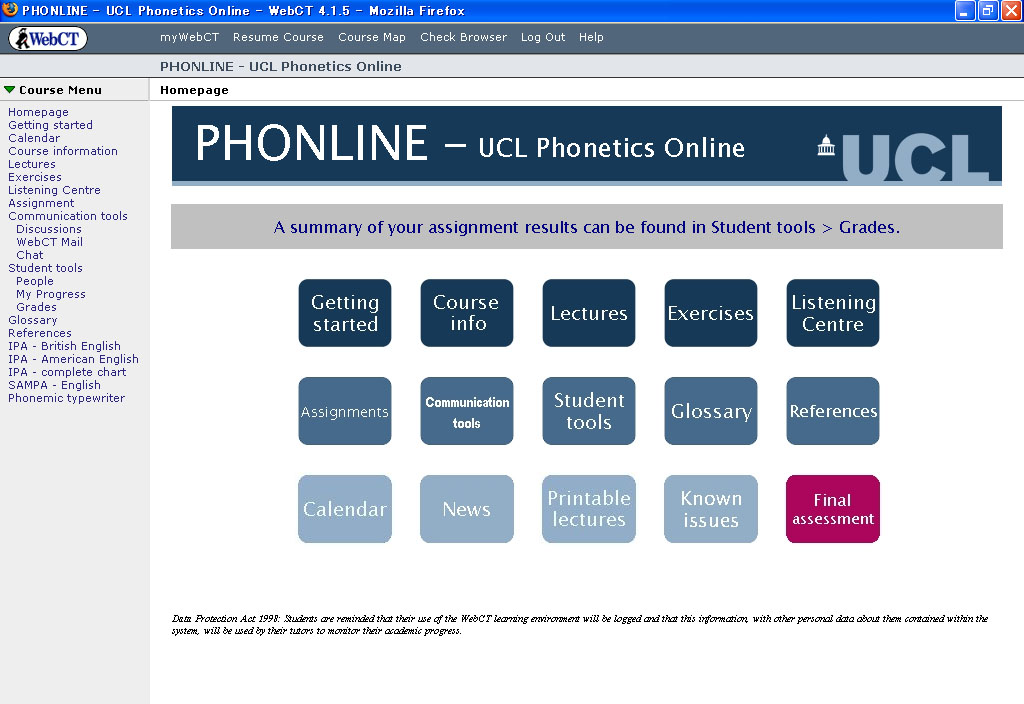 A crucial aspect of best practice in face-to-face phonetic training is that students work collaboratively and learn from each other. The value of a VLE is that it can in principle provide the required kind of interactivity for distance learners — but only if it can handle the appropriate media. Existing VLEs such as WebCT are currently not well adapted to the needs of a phonetics course, and there are problems even in the display of phonetic symbols on pre-prepared course pages so that they can be read by all participants regardless of computing platform. The research and development of the pilot course therefore focused on the issues of communication among participants in phonetic transcription (not only for teaching materials and assessments, but also in spontaneous discussions and emails) and the exchange of audio material of sufficient quality to support detailed auditory and acoustic analysis.
By the time that PHONLINE launched in June 2006, techniques had been evolved enabling the use of phonetic symbols by both tutors and participants in all the different forums of the VLE. Students were guided step by step through the process of displaying phonetic symbols on their computers and using them in their work as well as in discussion forums.
Extract from a page in "Getting Started", explaining how to adjust your computer to display phonetic symbols :
At the same time, various methods of delivering sound files were evaluated for compatibility, enabling PHONLINE to launch with a "Virtual Listening Centre" (a library of recorded materials) already in place. Developments were systematically tested across a range of browsers on both PC and Mac.
Unicode
UCL Phonetics and Linguistics has for several years offered free advice and resources for those needing to use phonetic symbols in word-processed documents. Special-purpose fonts such as our widely-used IPA-SAM fonts are now giving way to Unicode, which offers the prospect of total compatibility, but has hitherto been cumbersome to use. PHONLINE materials were originated in Unicode using a Unicode Phonetic Keyboard specially developed by Mark Huckvale and now distributed as a free resource. This keyboard was also recommended to participants on the course.
Screenshot of Language bar with Unicode phonetic keyboard installed

Audio resources and workflow
Extensive trials were also carried out to define the protocols for recording format, and sampling rate, and to investigate signal-to-noise requirements, and the value of various types of postprocessing such as noise reduction and normalization. A workflow was established in which recording scripts were generated in ProRec; reference quality recordings were originated at 44.1 kHz in the Department's anechoic chamber and then normalized and downsampled in batches to give 16 kHz wav files. A comprehensive system of filenames was evolved, permitting all the textual, graphical and audio resources of the system to be clearly identified.
Extract from the virtual Listening Centre (click on "LC01" to listen to the sound file) :
Back to [Top of page] [PHONLINE Report top]