Voice Measurement & Applications Workshop - 16 May 2014
Introduction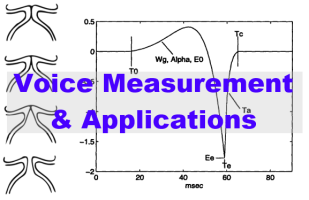 Recent advances in audio, signal processing and machine learning are producing exciting new applications of voice measurement. Recent research work has shown how a clinician's severity rating of Parkinson's disease can be well predicted from acoustic measurements of a patient's voice. Recent work in aerospace has been using voice measurements to predict the fatigue levels of pilots. Recent work in computational paralinguistics has investigated how the cognitive load of a subject performing a difficult mental task can affect their voice. Smartphones are being used to build tele-health applications to monitor dysphonia, while crowd-sourcing is being used to study voice variation across the population.
This free one-day workshop will try to bring together experts in this multi-disciplinary field who are building these new applications that incorporate voice measurement. Experts in speech science, speech signal processing, machine learning, clinical measurement of voice, and commercial applications will be represented in a day of talks and discussion. The goal of the workshop is to share state of the art techniques, to discuss the problems and challenges we face, and to build collaborations for future exploitation of voice measurement technology.
Programme
10.30
Coffee and Registration
11.00
Opening remarks
Dr. Mark Huckvale (Speech, Hearing and Phonetic Sciences, UCL)
11.15
Quantifying Parkinson's by measuring voice quality
Dr. Max Little (Aston University)
11.45
Clinical decision support tools using sustained vowels: applications in Parkinson's disease and early onset voice pathology detection
Dr. Athanasios Tsanas (University of Oxford)
12.15
Aspects of Clinical Voice Quality Measurement
Prof. Adrian Fourcin & Dr Evelyn Abberton (Emeritus, UCL; & Laryngograph Ltd)
12.45
Sandwich Lunch
1.30
Prosody and Voice
Prof. Ailbhe Ni Chasaide (Trinity College, Dublin)
2.00
Voice changes under conditions of cognitive load
Dr. Mark Huckvale (Speech, Hearing and Phonetic Sciences, UCL)
2.30
The 'On Person Rapid Voice Examiner' (OPERAVOX) for the mobile analysis of voice quality
Dr. Anil Alexander, Oscar Forth and Owain Hughes (Oxford Wave Research Ltd)
3.00
Cloud Telephony for Enhancement of Tele-Health Applications
Dr. Ladan Baghai-Ravary (University of Oxford)
3.30
Tea
4.00
Acoustic voice analysis with mobile devices
Dr. Felix Schaeffler, Dr. Janet Beck and Dr. Joan Ma (Clinical Audiology, Speech and Language (CASL) Research Centre, Queen Margaret University Edinburgh)
4.20
Vocal markers of speech deterioration following deep brain stimulation in Parkinson's Disease
Dr. Elina Tripoliti, Ms. Nerys Morton, Dr. Christina Smith (Psychology and Language Sciences, UCL)
4.40
Closing discussion
5.00
Close of meeting
Venue
The workshop will take place on Friday 16th May 2014, in Lecture Room G10, Chandler House, 2 Wakefield Street, London WC1N 1PF. (View on Map).
The workshop will start at 11am. Registration and coffee will run from 10.30am. The workshop will end by 5pm. A sandwich lunch and afternoon tea will be provided free of charge.
Registration
Registration is now closed. We have over 50 attendees!
Organisers

The workshop is being organised by:
Funds for the workshop are being provided by the European Space Agency, under a project "iVOICE – integrated voice analysis of satellite communications embedded in time and safety-critical environment".