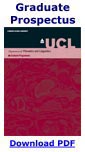 Graduate Programmes
UCL Phonetics & Linguistics and the UCL Centre for Human Communication offer a range of graduate degree programmes. We also welcome affiliate graduate students and post-doctoral visitors. Information is summarised on these pages and you can find answers to some Frequently Asked Questions and details of How to Apply, but see the graduate prospectus (link on right) for full details.
Taught graduate programmes
Conversion Programmes
MA Linguistics
For graduates converting to Linguistics from other disciplines
MA Phonetics
For graduates converting to Phonetics from other disciplines
Advanced Programmes
MA Phonology
For linguistics graduates wanting to specialise in Phonology
MA Pragmatics
For linguistics graduates wanting to specialise in Pragmatics
MA Syntax
For linguistics graduates wanting to specialise in Syntax
Cross Disciplinary Programmes
MSc Speech and Hearing Sciences
For graduates wanting to pursue a scientific research career in speech or hearing
MRes in Speech, Language and Cognition
For graduates wanting to pursue a research career in the cognitive processing of language
Research programmes
Programmes of interest in other departments
Do not contact us for further details of these programmes, follow the links below.
Affiliate Graduate Students
Students studying for a graduate-level degree abroad or at other universities in the UK can attend courses in the department as affiliate graduate students. Credit acquired as an affiliate student can sometimes be transferred back to your original programme. Application details can be found at:
UCL Admissions Office Affiliate Students Information
Look at our Courses listing to find out which taught courses are available.
Postdoctoral Visitors
The department welcomes enquiries from postdoctoral visitors who wish to spend some time working in the department on topics related to current staff interests.
Enquiries should be addressed to Dr V. Hazan, Head of Department, Department of Phonetics and Linguistics, UCL, Gower Street, London WC1E 6BT. E-mail:
A charge is levied by the College on postdoctoral researchers and other academic visitors (to cover library costs and other expenses) except for those who are appointed as Honorary Research Associates.
---
Frequently Asked Questions
See individual programme pages for answers to more FAQs
What funding is available for Masters programmes?
UCL funding
UCL offers a range of scholarships, bursaries and other funds to help support students on Master's programmes. To apply for these you must first have been accepted onto a graduate programme at UCL. This means that graduate application forms should be received by the Admissions Office at least two-weeks before any scholarship application deadline. Information about source of funding for graduate students is available from:
UCL Admissions Office Graduate Scholarships Information
or in the UCL booklet entitled "Sources of Funding for Graduate Students", which can be obtained from the Admissions and General Enquiries Office, UCL, Gower Street, London, WC1E 6BT.
NB: The department-internal deadline for the receipt of AHRC competition applications is 1 March.


Departmental funding
For information on departmental funding available, please click
here
.
Can programmes be pursued part-time?
All graduate degrees in the Department of Phonetics and Linguistics, except the MSc in Speech and Hearing Science, can be pursued part-time. The department welcomes applications from students who wish to attend on a part-time basis.
How do I apply for a Master's programme?
The UCL Graduate prospectus, a downloadable application form, the scale of fees, and other useful information can be accessed on the UCL Graduate Admissions web pages.
Alternatively an application pack and printed College Graduate prospectus are available by post. Please e-mail your request to or write to:
Admissions and General Enquiries Office
University College London
Gower Street
London WC1E 6BT
United Kingdom
Tel: +44 (0)20 7679 3000

For More Information
Contact the Teaching Administrator:
Ms Stefanie Anyadi
UCL Psychology and Language Sciences
Chandler House
2 Wakefield Street
London WC1N 1PF

E-mail: 
Telephone: +44 (0)20 7679 4224
Fax: +44 (0)20 7383 4010