Educational Resources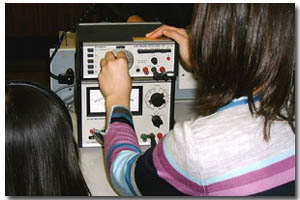 The Department has been highly rated for the quality of its teaching. These educational reviews and lessons may interest students of Phonetics, Linguistics and the English Language.
English Grammar for Schools | Estuary English | Word Grammar
The Department has been involved in a number of funded projects concerned with education in Phonetics and Speech Communication. These projects and other work have led to some teaching materials that are accessible over the web: the Web Tutorials offered below. If you complete a tutorial, please take the time to send us your comments.
Phonetics | Hearing | Math | Create Your Own
Advice on the use of phonetic symbols in computing applications, including downloadable keyboard layouts, fonts and more. Learn more ...
We offer a variety of software for analysing sounds and signals, displaying waveforms and spectra, synchronising display and audio, storing and analysing speech data, and much more. Learn more...
Would you like to be able to perform large scale, accurate, semi-automatic acoustic analysis of speech on your own laptop, such as F0 extraction, F0 contour smoothing, time-normalization, F0 -velocity computation, segmentation, amplitude normalization, etc.?
We offer a set of scripts written for the freely available program Praat (www.praat.org) that can allow you to do that. Learn more...
Advice on equipment for making speech recordings, putting sound on web pages, or working with sound on your computer. Learn more...
The department has been involved building a number of language resources. These include the UCL speaker variability database, the SCRIBE corpus of spoken British English, and the EUROM corpus of eight European languages. Learn more...
Conference Proceedings & Workshop material
PSP 2005
PTLC 2005
PTLC 2007
Modelling the language faculty: Optimality Theory - powerpoint presentation
Specialist facilities
The department has specialist facilities for research in the production and perception of speech, including an anechoic recording chamber and sound proofed booths in the Listening Centre.