Installing a web certificate to prevent error messages for https access


If when accessing a website using https://website_name or a directory on a site forcing https access, you may receive an error message. If the message is because the website's security certificate is not one recognised by a Certificate Authority,
you can install the unrecognised certificate into your browser so you won't receive the error message again for this site until its certificate expires.

Most web browsers will direct you through a menu to install the certificate after you have tried to access the site and selected to view the certificate. You should save the certificate permanently as instructed.


Don't install a certificate for a website unless you trust the site you are connecting to and your browser indicates that you really are connected to that site as the name you know it by rather than via a link which claims to take you there.



Instructions are give below for installing the certificate for browsers where the procedure is not obvious.


Internet Explorer version 7
On first connectiong via https to a site with an unrecognised certificate, this message will appear:-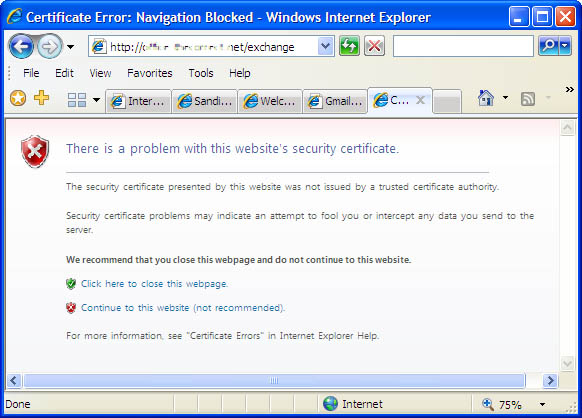 Click on

Continue to this website (not recommended)



If it is an area on a website which requires a username and password you may be prompted for these at this point.
Enter them.

You will be let into the site or directory on the site but it will have a red Address Bar and certificate error message:




Click on the

Certificate Error

button to open the information window
: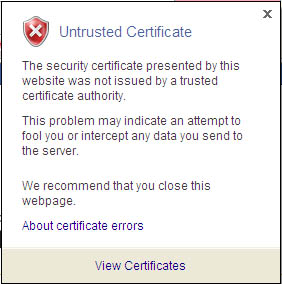 Click on

View Certificat

es

. Then click on

Install Certificate

. Click

Next

through the

"Certificate Import Wizard"

screens and

Finish

on the final screen. This will lead to one final warning. Click

Yes

here to finish the process.